Oven Baked Curly Fries – Arby's Copycat
I love Arby's. I sometimes get a similar issue whenever we tend to visit Arby's, an everyday beef and cheese sandwich. And in fact you can't forget the frizzly fries. in spite of what quantity I try and resist, if we have a tendency to square measure at Arby's, I simply can't say no to the curly fries.
If you are ever craving curly fries, this is the recipe for you. And if you don't want to go out and buy a curly fry cutter then you can just cut them like regular straight french fries with a mandolin or a knife and just enjoy the delicious seasoning. YUM!
INGREDIENTS
3 large potatoes
2 tsp paprika
1.5 tsp salt
¼ tsp garlic powder
¼ tsp onion powder
⅛ tsp cayenne pepper
3 TBS flour
3 TBS egg
1.5 TBS milk
INSTRUCTIONS
Preheat oven to 450 degrees.
Bring a medium sized pot of water to boil.
Cut potatoes into curly fries using a curly fry cutter, or cut potatoes into regular fries. (You can peel the potatoes first if you want to)
Put potatoes in boiling water and boil for 3 minutes.
Rinse potatoes off in a colander with cold water.
Dry potatoes with paper towels and set aside.
Combine paprika, salt, garlic powder, onion powder, cayenne pepper and flour in a small bowl.
Add in egg and milk and mix well.
Pour fries into a large bowl and pour seasoning mixture in and mix well.
Dump fries onto a baking sheet lined with parchment paper and spread around evenly (so they aren't overlapping)
Bake for 30-35 minutes, flipping a couple times through out until french fries are nice and crispy.
Enjoy these curly fries hot and fresh with ketchup or plain!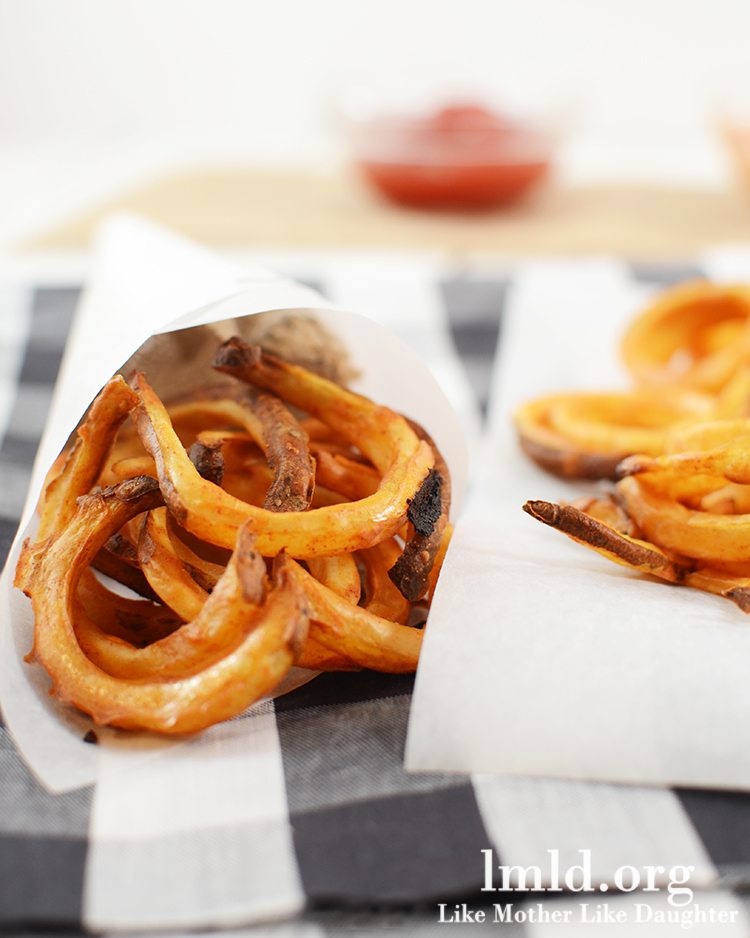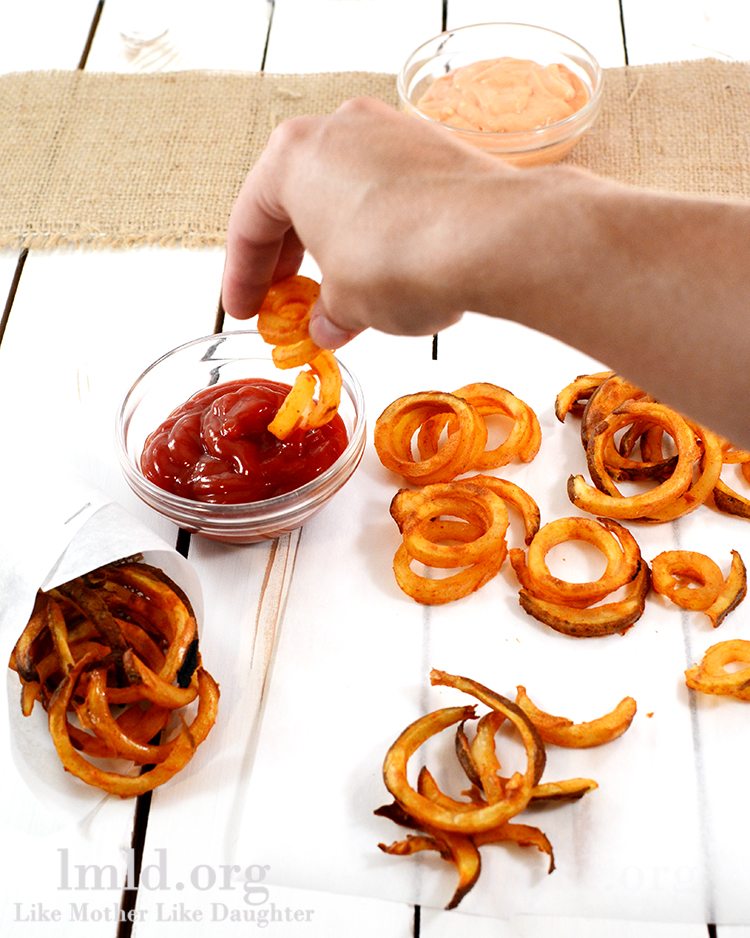 Source: lmld.org
For More recipes like this visit: http://lmld.org/